4/09/16
San Juana Estrada-teacher for PISD at Southside School for 16 years, teaching 2nd and 3rd graders in ELA. She teaches Spanish and English and is a great team player for our district. She is our HAT award winner for January 2016. Jami McCoy is our HAT teacher for February 2016. She teaches 4th grade students [...]
7/01/15
"HAT Awards"… Honor A Teacher! The following teachers were awarded the HAT Awards from the PHSAA during 2015: January- DeAnne Atkinson from Story Intermediate School. She is a Math Interventionist and helps struggling math students and provides support for all of the staff. February- Eric Higginbotham from Story Intermediate School. He is a Reading Intervention teacher that [...]
8/14/16
00 / 00 / 0000  -  00 / 00 / 0000 Rickey Spencer No Obituary Available At This Time
Palestine High School Alumni Association
The mission of the Palestine High School Alumni Association is to support the students, faculty, and administration to further strengthen the educational accomplishments of Palestine Independent School District. As of January 2016, PHSAA has given over $40,000 in scholarships and honorariums to graduating seniors and PISD teachers since its inception on January 22, 2008.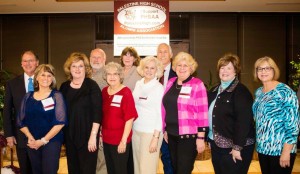 2016 PHSAA Board
Sandra Shaver Lane ('72)- President
Debbie Turbyfill Nethery ('74) – Vice President
Becky Ray Mitchell ('72 ) – Secretary
Melissa Cox ('72) – Treasurer
Lee McCain Brown ('69)
Timothy Triplett ('69)
Carla LeGard ('63)
Bobby Alexander ('74)
Paul Morris ('66)
Bennye Reed Rice ('62) – Ex-Officio Board Member
Join us in helping us help the future generations of PHS alumni. PHSAA is a 501(c)3 tax exempt organization.
Help PHSAA Help PHS and our Students!